Israel, Ma'ariv
By Amos Gilboa
I  do know two things. One – Rouhani is an integral part of the layer of Iran's clergy, and his values ​​are the product of Persian culture and Shiite faith...
Translated by Viktoria Lymar
Edited by Steven Stenzler
24 June 2013
The Iranian president inspires hopes, like Bashar Assad at the time. However, our tendency to interpret reality in a one-sided way has already been proven wrong in the Yom Kippur War.
To any Hebrew speaker, the name of Iran's new president, Hassan Rouhani, immediately conjures up associations of something good, something that is spiritual, an educated intellectual* who doesn't know what evil is. And if this man has studied in Glasgow, and is even considered a "moderate" in the West, so there definitely must be something in it.
For some reason, and with thousands of differences, it reminds me a little bit of how we, and the West, received at the time the new president of Syria, named Bashar Assad. He's young, a fan of Internet, was educated in the West, longing for reforms, for peace with Israel and close ties with the West.
Bashar raised hopes, and so does Rouhani. Hope is an extremely important thing. It is the domain of us all, but in my opinion, [we] must not see reality through it in one-sided way, and should not try to paint the future in one color, usually pink (or black, depending on the type of hope).
What is it all about? The counting  of the votes was even barely finished in Tehran, whereas assessments and interpretations were already rushed over here [in Israel]: On the one hand, Iran's Rouhani would give up the nuke development for war needs and focus on a peaceful nuke; this Iran would stop its subversion throughout the region, and its Axis of Evil would be enervated; Khamenei's supreme status in Iran has weakened, he is failing badly. And on the other hand: Nothing happened, the whole thing is Khamenei's elaborate scheme to please the ear of the West; please despair.
This approach, of course, reflects the will of its owners, when there's no basis for this in reliable information, and surely not in the the future – regarding which, what to do, we have no information. But there's something deeper in here. This approach is convinced that the other side senses and feels like you, and if you think rationally, according to your opinion – the other side, too, should think like you.
This approach negates the other side of [his or her] independent intellectual autonomy, based on [his or her] culture, education and values. In this attitude, there's something of arrogance and thinking: I am superior, my thought is correct.
Let's Wait and See
I want to illustrate this by one case of the many related to the Yom Kippur War. What were we thinking in Israel about Sadat the Egyptian president? We thought: He thinks like us, most rationally, and he has no interest in going to war because he knows he'll lose it, because he knows that the Israel Defense Army is stronger than his army, and the IDF will smite it hip and thigh.
If we were in his place, we would certainly not go to war against the IDF and its formidable air force. We didn't think at all that maybe, Sadat thought and felt differently; it didn't occur to us that he was ready to lose in the battlefield in order to win, perhaps, in the political field, we were not able to understand that he had his own interests, that he's a proud man who was humiliated. The U.S. intelligence also thought like us.
I don't know and I don't pretend to know what the future holds, to which direction Rohani is going to turn and whether ​​Khamenei's standing has been really damaged. Nonetheless, I know two things. One – Rouhani is an integral part of the layers of Iran's clergy, and his values ​​are the product of Persian culture and Shiite faith.
Second – his predecessor, Mahmoud Ahmadinejad, indeed contributed greatly to the Israeli propaganda [hasbara], and his big mouth was a real find from heaven for Netanyahu. Yet this guy was as well the one to mock all the Western dignitaries, lead them by the nose, make fun of them and bring Iran to the threshold of acquiring nuclear capability and the status of a regional power in the Middle East. That has charged Iran a hefty economic price.
Where will Rouhani go? He said one clear thing: His goal is to reduce the economic cost of sanctions. How? We will wait and see.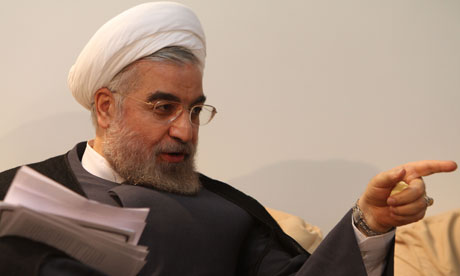 Original Hebrew article:
http://www.nrg.co.il/online/1/ART2/483/446.html?hp=1&cat=479
Photo credit: LobeLog/Mehdi Ghasemi; Guardian/Corbis
The author is Brig. Gen. (res.), advisor on intelligence affairs to the Israeli intelligence community and lecturer on intelligence. He has held several senior positions in the Intelligence Corps and in the Intelligence Dept of the IDF General Staff, most recently as Head of the Research Division. He also served as advisor to the prime minister on Arab affairs and as advisor to the defense minister.
Note:
* A play of words in Hebrew: "spiritual" (which sounds like the Iranian President-elect's last name) and "intellectual" (literally in Hebrew - "man of spirit")