By Viktoria Lymar
"Time is of the essence in this situation."
5 November 2012
An excerpt from a research paper by an Israeli student, dated to the end of 2008 (exact translation from Hebrew)
      - The Diplomacy and Policy So Far -



[...] To begin, it makes sense to take a few steps back, in a retrospective look (however sketchy), first of all, at the American 2006–2007 line on the Iranian issue – and the goings-on around it preceding those of the present period. It appears that in 2007, since the U.S. brought up its last proposal to Iran, and Condoleezza Rice came up with a new strategy of democratization in the Islamic Republic,1  fitting well with the European diplomatic effort, Tehran succeeded to dramatically beef up the number of its operational centrifuges and get command, even if not completely, of the complex technology of their continuous operation. Simultaneously, the new-old propositions on the part of the Europeans that were ready to reconcile with a certain level of enrichment and partial Iranian control over the fuel cycle, reflected more than anything a failure of the rationale of suspension underlying the basis of the negotiations between Iran and the 'EU three' (Germany, France and United Kingdom), and the five permanent members in the Security Council plus Germany. The pace of negotiating and fragmented diplomacy applied to Iran lagged significantly behind the pace of progress of Iran's nuclear program, and it's very highly doubtful whether it had a chance to ever catch up. For Iran, the negotiation played into its hands in order to gain precious time – time it spent toiling around the clock improving its expertise, and advanced at dizzying speed. Almost a year after Rice's new strategy vis-à-vis Iran was launched, with the blessing of President Bush, disputes flared anew behind the scenes in Washington regarding the policy to be taken toward Iran, in the face of the former falling short of delivering the goods and of curbing the Iranian nuclear program.

On one side of the barricade, there gathered Rice and her team, who had, at least then, the upper hand in setting policy on Iran, while on the other side – the few 'hawks' who still remained in the administration, concentrating mainly in the office of Vice President Dick Cheney and pushing for a military move against Iran's nuclear facilities. Rice and her right-hand man, [Under Secretary of State for Political Affairs] Nicholas Burns, the strategist on the Iranian matter, drifted more and more toward the European position advocating diplomacy as the only realistic option of dealing with the Iranian threat, despite its searing failure as of yet, and Iran's ongoing advancement toward the bomb. They also tried to lift the growing pressure from the side of 'the hawks' for a military move, so as to convince the Europeans and Russia to impose more biting sanctions on Iran, and argued that the sanctions imposed thus far are working, at least partially. The thing is that in actual fact, the motion in the Security Council is moving sluggishly, with larger time intervals between resolutions. At the same time, the adopted sanctions are proving themselves to be too moderate, which Iran can withstand, and it makes an impression that Tehran is willing to pay the price in even more painful sanctions for the bomb. And here, the question to be asked is how close the number of the accumulated Security Council resolutions is to getting over a certain critical mass, – that which would serve as a pretext for war after exhausting the diplomatic process, in accordance with the Chapter VII of the U.N. Charter (as a threat to the world peace) and the need for the use of military force. According to The New York Times, Nicholas Burns estimated in the course of a closed meeting in the White House that the negotiation with Iran would continue upon the end of Bush's tenure and by extension, so would the barren diplomatic effort, dangerous in Israeli eyes.

In parallel, conservative elements inside the administration and outside it, sought to define a technological threshold, the crossing of which by Iran would require American action, – and pushed for a harder line against Iran. In the end of June 2007, John Bolton, ex-U.N. Ambassador, and formerly also U.S. Under Secretary of State for Arms Control and International Security, warned that the Bush administration does not recognize the urgency of tackling the Iranian issue, and that in practice, the only options remaining on the table are regime change from within (although, such a process "may take more time than we have"2 and a last-resort military intervention, while, in his view, the White House is still clinging to the dangerous and misguided belief that the sanctions can be effective. Moreover, Bolton had affirmed then [June 2007] that "We have fiddled away four years, in which Europe tried to persuade Iran to give up voluntarily. Iran in those four years mastered uranium conversion from solid to gas and now enrichment to weapons grade... We lost four years to feckless European diplomacy… [and our options are very limited]."3 He added that the Bush administration of 2007 is different from the administration he got to know three years ago, primarily because of the overwhelming dominance of the State Department in formulating foreign policy toward Iran, which "has adopted the European view [on how to deal with Iran] and other voices have been sidelined." He actually said that it was the failed handling of the Iran nuclear crisis by the Bush administration that pushed him to leave it [taking ambassadorial posting to the U.N.]: "I felt we were watching Europe fiddling while Rome burned. It's still fiddling."4

1 August 2005. Announcement of the nomination of John Bolton as the U.S. Ambassador to the United Nations. White House photo/Paul Morse.
Similarly, in an article titled 'The Case for Bombing Iran' (June 2007), Norman Podhoretz, the neoconservative editor of Commentary magazine asserts that "the plain and brutal truth is that if Iran is to be prevented from developing a nuclear arsenal, there is no alternative to the actual use of military force – any more than there was an alternative to force if Hitler was to be stopped in 1938."5 Contrarily, the Secretary of State Rice kept promoting the political strategy, and relying on dangerous rationalization in her justification of the continued diplomatic process, no matter how badly it failed, despite the issue being handed over to the Security Council and the sanctions enforced on Iran. She maintained that it was still feasible to convince Iran to retreat from its nuclear program and reasoned that even if it were to continue its activities in the nuclear field, there still would exist a question of what level of expertise Iran has really reached.6 She thus postulated that the suspension of enrichment – one of the key objectives of the negotiation with Iran that so far resulted in a miserable and echoing fiasco – can still prevent Iran from fully mastering the enrichment technology and using it. (She even noted that she prefers a situation in which Iran would carry on exercising its expertise in the enrichment field under the watchful eyes of the international system and against all the resolutions adopted). In contrast, John Bolton claims that it is clear that Iran managed to surmount "all the technical problems of uranium enrichment," and it "may well be that we have passed the point of Iran mastering the nuclear fuel cycle," and if so, it's now merely a matter of time, "of resources and available equipment," before Iran reached a bomb-making capability, and it's clearly Iran that sets the pace.7
The controversy between the hawks and the State Department staffers in Washington as to the policy against Iran went on, and grew stronger, and occupied a central place in the discourse of the Republican and Democratic candidates as the 2008 elections were approaching. Thus, 2007 was marked by internal debate in the U.S., Iran's activity on undermining stability in Iraq, Lebanon and in the Palestinian territories, mostly in Gaza, and the pressure put on the U.S. to work to contain the Iranian threat. Speculations were hovering in the air regarding 2008 as the Year of Decision, for President Bush wouldn't make peace with Iran marching with huge strides towards nuclear weapons 'on his watch,' as well as estimates concerning the time of a possible military operation against Iran. While our Shaul Mofaz8 told in his meeting with Rice in Washington that Israel is going to need to hold a renewed evaluation of the situation by the end of 2007 as to how to handle the Iranian threat. Meanwhile, the coordination between Israel and the U.S. on the subject in the framework of the strategic dialog increased. Whereas John Bolton, in his turn, flatly implied to the Israelis that if he were in Israel's predicament, he would "be pushing the US very hard" from outside. "Israel's options are as limited as those of the US, except that you are in more danger in that you are closer. I hate to say that."9
The end of 2007 featured the release of the controversial U.S. National Intelligence Estimate, which suddenly as if exonerated Iran (even if left on it a label of 'still dangerous') and caused a major confusion for the President and administration.10 An assessment like that has become a complete surprise that mixed the cards and made so much noise around the world and of course, on the international front against Iran – and against this background, we have entered 2008, which turned out to be a year of real turbulence. It was quite clear that the U.S. intelligence report on Iran having discontinued its nuclear weapons program in 2003 is going to hurt, in all likelihood, the earlier intentions of the United States to cast additional sanctions on Iran, as admitted the U.S. Vice President Dick Cheney, for example.

Well, additional rounds of sanctions kept on firing blank ammunition, while from observing the evasive policy of the Iranians, it became increasingly apparent that Iran was shamelessly fooling the world, trying to raise its false hopes by means of conflicting reports and all kinds of manipulations in order to buy time. So, for instance, an unofficial Iranian website reported of a possibility that Iran would temporarily suspend the uranium enrichment and open talks with the Europeans on the basis of their proposals – which would reward it with a package of economic stimuli. On the other hand, the London Daily Telegraph reported, based on Western diplomatic sources that Iran is developing equipment for the production of nuclear weaponry through front companies, away from the eyes of the U.N. inspectors. A number of commentators claimed that the statements of the Iranian Foreign Minister Manouchehr Mottaki contain hints on opening a small window for the talks with the Europeans. Ali Akbar Velayati, the foreign policy adviser to Ali Khamenei, delivered a 'moderate in tone' communiqué to the French Foreign Minister (while France, as the rotating president of the European Union since 1 July 2008, was appointed for the further management of the crisis with Iran for the next six months). Hence, in the past, too, there was no shortage in positive clues from Iran which turned out afterwards as attempts of stalling.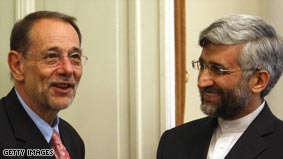 July 2008, Geneva talks. Iranian nuclear negotiator Saeed Jalili (right) with EU foreign policy chief Javier Solana. Getty Images.
In July 2008, a deadlock in the P5+1 talks on freezing Iran's nuclear program, led to a mini-ultimatum from the side of the United States to Iran. The U.S. State Department spokesman, Sean McCormac, warned the Iranians, saying that "We hope the Iranian people understand that their leaders need to make a choice between cooperation, which would bring benefits to all, and confrontation, which can only led to further isolation."11 The forum hoped to persuade Iran to stop its uranium enrichment program, in return for a promise not to impose additional sanctions on it. However, the Iranian Ambassador to Switzerland said already at the doorway of the talks that "Any kind of suspension or freeze is out of the question."12

It should be noted that at this point, the Bush administration broke its long-standing policy of refusing to engage with Iran until it halts enrichment, by dispatching the Under Secretary of State William J. Burns to the Geneva talks (whereas the mere fact of it was perceived by the Iranians as a sort of victory for Tehran). In the meeting, Iran didn't give a yes-or-no answer to the 'freeze-for-freeze' option proposed to it: world powers would stop pressing for new sanctions during a six-week period of pre-negotiations if Tehran agreed to stop adding new uranium-enriching centrifuges during the same period. Flustered diplomats gave Iran a two-week deadline [to respond positively to the offer or face economic sanctions]; while Rice, who recently acted vigorously to promote the initiative of democratization in Iran, called nuclear negotiator Saeed Jalili's lengthy presentation "meandering" and frustrating and concluded: "It's time for the Iranians to give a serious answer. They can't go and stall and make small talk about culture, they have to make a decision. People are tired of the Iranians and their stalling tactics… I think we have done enough to demonstrate that the United States is serious and to assure our partners that we are serious and to show the Iranians that we are serious."13 Before that, Rice also cared to make it clear that Iran should have no doubt about the willingness of the United States to protect its allies from a possible attack. "We are sending a message to Iran that we will defend American interests and the interests of our allies;" "We take very, very strongly our obligations to help our allies defend themselves and no one should be confused about that,"14 she said in response to remarks by Iran's Spiritual Leader Ayatollah Ali Khamenei that should the Iranian nuclear program be attacked, his country would 'set on fire' the State of Israel.
July 2008, Geneva talks. Iran's Saeed Jalili (left) across the table in Geneva from U.S. Under Secretary of State Burns (seated, third from right) and Javier Solana (seated, right). AFP.
On the other hand, it's quite interesting to follow the line of conduct of the threatened Israel. Officially, indeed, its nuclear policy remained with the same ambiguous policy – as long as no one canceled it – even though there have been recorded significant breaches lately. In this regard, as a reminder: Ariel Sharon15 back at the time told that the Iran issue is a clear-cut international issue, and there's no reason for Israel to get closer to the fore of the stage – and forbade the ministers to talk. On the contrary, he used to say that the higher profile Israel gets, the more detrimental it would be. Ehud Olmert16 also continued this line, even somewhat eased it, and he himself voiced a few outspoken statements, and also determined that the foreign minister and defense minister along with him are the only ones authorized to express themselves on this subject matter. So, was Olmert's famous nuclear gaffe in an interview to German TV (December 2006) really the result of the Prime Minister's lack of concentration rather than, perhaps, a cautious attempt of signaling, delivering a clear message as if 'by mistake,' when he listed Israel with the 'nuclear club'? "We never threaten any nation with annihilation. Iran openly, explicitly and publicly threatens to wipe Israel off the map. Can you say that this is the same level, when they [Iran] are aspiring to have nuclear weapons, as America, France, Israel and Russia?"17 and "Israel won't be the first country to introduce nuclear weapons into the Middle East"18 either? A professional analysis, by the way, proves that what is in principle presented as an embarrassing 'slip of the tongue,' does not look like an inadvertent blunder but rather a well calculated action, a planned and timely sentence that was uttered with a double purpose: to both be heard by those who are meant to and, nonetheless, to leave an opening for future denial.

Quite logical questions arise straight away: Is there some hidden objective here that seems mysterious at the moment? Does this indicate a maturing need to deviate from the policy of nuclear ambiguity, after forty years of its immunity, which, in the opinion of many, has achieved quite a few results? Among other things, one could have noticed that prior to that, whenever Olmert was asked apropos the Iranian nuke, he bothered to point out that it's not solely Israel's problem but that of the entire world. This time, the matter of Israel's reliance on the international community was somehow omitted, whereas the next day in Berlin, Olmert stressed, on more than one occasion, that "Woe are the weak and defenseless. Woe is he who refuses to believe the words of those who threaten to destroy him. Woe is the complacent man that fails to use his weapons to foil danger. Woe is he who entertains the delusion that he is beyond harm, and that is dependent upon the kindness of strangers,"19 – the link between the Holocaust and current reality is obvious. Could it be that Olmert has designated a new policy aimed at self-reliance? Is it possible that unlike the previous prime ministers, Olmert was thinking that the strategy should be changed and that now, it's the time to build a balance of deterrence against the emerging Iranian threat – and that he assumed, again, unlike the prime ministers in the past, that he was the one who'll have to cope directly with a nuclear Iran?

If this is really the situation, then his remark has been a harbinger of a transition to a new Israeli policy, to become apparent in the near future. Either way, Olmert seems to have hardly consulted with his government before making his words public: the ministerial reaction looked stammering and confused. And if the Prime Minister indeed was going to change the policy, maybe he had to make sure that the other ministers would align with it? Naturally, the Prime Minister's Office hurried to minimize damages and refuted the claim that he violated the policy of ambiguity and that he acknowledged Israel having nuclear weapons; it was clarified that Olmert spoke only on the principal subject and didn't mean in any way to talk about the possession, or lack thereof, of nuclear arms.
Notably, the breaking  of nuclear ambiguity by the Prime Minister comes in the wake of the piece of mind of U.S. Defense Secretary Gates, who a week earlier referred to Iran's ambitions to acquire nuclear weapons by explaining that "there are, in fact, higher powers in Iran than he, than the president. And I think that while they are certainly pressing, in my opinion, for a nuclear capability, I think that they would see it in the first instance as a deterrent. They are surrounded by powers with nuclear weapons – Pakistan to their east, the Russians to the north, the Israelis to the west, and us in the Persian Gulf."20 (A year later, Gates happened to protect the Israeli nuclear program by telling that it does not pose a regional threat: "I think there are significant differences in terms of both the history and the behavior of the Iranian and Israeli governments… Israel is not training terrorists to subvert its neighbors… It has not threatened to destroy any of its neighbors."21)
April 2007. Israeli Prime Minister Ehud Olmert, left, and U.S. Defense Secretary Robert Gates, right, shake hands prior to a meeting at the Prime Minister's office in Jerusalem. AP Photo/Kevin Frayer.
On the eve of the nationwide home front preparedness exercise on 8 April 2008, as if against all attempts of calming the population about the matter, the Minister of National Infrastructures – and formerly Minister of Defense, Benjamin (Fuad) Ben-Eliezer, suddenly hurled an acute and exceptional threat toward Tehran, as following: "An Iranian strike on Israel would result in an Israeli response that would devastate the Iranian nation… The future reality may be much much worse than that we are familiar with… An initial strike on Israel would see hundreds of missiles hit us... all of Israel will be within range of Syrian and Hezbollah missiles… We should be ready for the possibility of missiles falling in the strategic locations, and prepare for the worst case scenarios."22 The Prime Minister's Office elegantly dismissed Ben-Eliezer's presentation, and PM Olmert clarified to his associates that it was issued on the Minister's own initiative and is not in terms of an official statement of the State of Israel.

Not even two months passed by – and another former Israeli Defense Minister, Deputy Prime Minister Shaul Mofaz, the day after another kind of exercise in the Mediterranean, not as much publicized here, came forward with his defiant comments with respect to the possible Israel's course of action: "If Iran continues with its program for developing nuclear weapons, we will attack. Attacking Iran, in order to stop its nuclear plans, will be unavoidable."23 Although, Mofaz was criticized by other Israeli politicians as seeking to enhance his own standing as questions mount about whether the embattled Israeli prime minister, Ehud Olmert, can hang on to power. American officials were told by their Israeli counterparts that Mofaz's statement did not represent official policy, but also – that Israel had prepared plans for striking nuclear targets in Iran and could carry them out if needed.24
I guess, for every thinking person, it's a little hard not to raise doubt that the people responsible until recently for the security of the State of Israel, just got up one by one, and for no reason started to 'make waves' with their noisy declarations. The issue of [self-] expression is of first-rate importance, because Israel has a vital interest that its policy be well understood in Tehran and the capitals of the world. Declarations on Israel's policy in the case it's attacked are supposed to add in this aspect an important layer of deterrence. And in order to create a credible deterrence, the Iranians should be led to understand that if they attack Israel, it will be able to hurt them fatally. And when such 'tongue slips,' let out as though by accident, 'out of nerves,' from the mouths of people who, even if they don't belong to the authorized official spokespersons of the nuclear policy as of today, nevertheless, it's known to everybody that until yesterday, they enjoyed access to 'the most inner room' of the country's atomic secrets – it's truly doubtful whether they just lost their cool occasionally and aired stuff like that, 'as if' uncontrolled – which in its essence is likely to signal to all directions, and contribute mightily to strengthening Israeli deterrence. (In this context, some opine that Mordechai Vanunu25 with his confessions, basically, deserves Israel Security Prize…) Still, it was hard not to notice that all such deviations from the conventional framework of the Israeli nuclear policy were usually muted or blurred not only by qualified Israeli bodies but also by those American ones, whose official response was largely reserved and unsupportive, the main argument being that such declarations provide the Iranians with a legitimate excuse to take a defensive posture and stick to developing its own nuclear weapons so as not to fall victim to the aggressive Israel. On these grounds, the impression is that the idea of embracing an open nuclear deterrence by Israel at least for now, does not look so pretty in the eyes of the Americans, and we're not really talking this option for the moment.
November 2008. Bush and Olmert to meet over Iran's nuclear ambitions (after publication of a nuclear watchdog's report showing that Iran may have stockpiled enough enriched uranium to make a nuclear bomb). AP Photo/ Ariel Schalit.
And anyway: "Late last [2007] year, Congress agreed to a request from President Bush to fund a major escalation of covert operations against Iran, according to current and former military, intelligence, and congressional sources. These operations, for which the President sought up to four hundred million dollars, were described in a Presidential Finding26 signed by Bush, and are designed to destabilize the country's religious leadership."27 The covert activities involve support of minority groups and dissident organizations, as well as gathering intelligence about Iran's suspected nuclear-weapons program. The request for funding came in the same period in which the Administration was coming to terms with a National Intelligence Estimate, released in December, that concluded that Iran had halted its work on nuclear weapons in 2003.28 Although it "downplayed the significance of the N.I.E., and, while saying that it was committed to diplomacy, continued to emphasize that urgent action was essential to counter the Iranian nuclear threat. President Bush questioned the N.I.E.'s conclusions, and senior national-security officials, including Secretary of Defense Robert Gates and Secretary of State Condoleezza Rice, made similar statements. (So did Senator John McCain, the presumptive Republican Presidential nominee.) Meanwhile, the Administration also revived charges that the Iranian leadership has been involved in the killing of American soldiers in Iraq: both directly, by dispatching commando units into Iraq, and indirectly, by supplying materials used for roadside bombs and other lethal goods."29 This should be taken, of course, with a clear understanding that we can never expect from the mass media the full and accurate picture, nor will it disclose to us the real cards in the hands of policy makers.

The Democratic candidate for the U.S. presidency Barack Obama dwelled in late August [2008] on the fact that apparently, over the last years, American policy did not manage to influence a change in Iran's 'behavior,' and that the world should enhance its diplomatic pressure against the Iranian nuclear project; in particular, "We've [the U.S.] got to do that before Israel feels like its back is to the wall" (and like it has to tackle the problem itself, implicitly?). And "We have to act much more forcefully and effectively on the world stage to contain Iran's nuclear capabilities… My job as president would be to try to make sure that we are tightening the screws diplomatically on Iran, that we've mobilized the world community to go after Iran's program in a serious way, to get sanctions in place so that Iran starts making a difficult calculation."30 Sounds consistent with his statements over the period of a couple of months before: "There's no greater threat to Israel or to the peace and stability of the region than Iran"31 (4 June 2008); "A nuclear Iran would pose a grave threat and the world must prevent Iran from obtaining a nuclear weapon"32 (23 July 2008); "…one of my strong beliefs is that, to the extent that we are showing a willingness to negotiate but are very clear and direct in our goals, and are displaying a sense of urgency – that if the Iranians fail to respond, we've stripped away whatever excuses they may have, [and] whatever rationales may exist in the international community for not ratcheting up sanctions and taking serious action. Time is of the essence in this situation"33 (24 July 2008). – Just to mention a few. In short, clearly, a nuclear-armed Iran would be a "game-changer for the region"34 (25 August  2008).

However, it was hard not to pay attention to a relatively new and intriguing development, and equally disturbing one – although, I suppose, one can look in different directions for its interpretation. What Condoleezza Rice herself defined as no more than 'whispers' a few months ago,35 somehow crystallized into a decision on renewing the diplomatic relations between the United States and Iran, after three decades of their severance, and despite the sanctions and the stinging criticism of the Iranian president by the American administration. As of early October, Rice allowed that the administration is considering the possibility of opening an interest section in Tehran, but it was before long that it has shelved plans to set up a diplomatic outpost in Iran, in part over fears it could affect the U.S. presidential race or be interpreted as political meddling.36 From the reports of the American media of the end of the month, which relied on senior sources in the White House, it became apparent that the resuming of relations would be performed gradually, when at the first stage, interest sections are to be opened in the two capitals on the way to full renewal of diplomatic relations. It was reported that the Bush administration was supposed to announce this shortly after the [November 2008] U.S. elections.37 This announcement has been postponed so far, probably, due to the considerable work of Israel's representatives behind the scenes. Yet the current U.S. administration officials have already explained to their Israeli counterparts that the comeback to Tehran will reveal how much the Iranian people want restoration of the relations with the 'Great Satan.' But it's not so sure whether in the new Obama administration, the Israeli pressure will find open ears.

Essentially, behind the laundered code word from Barack Obama's diplomatic vocabulary – 'engagement' (in the sense of 'coming into contact'), – there stands a change that is about to impact the relations of the new American administration with Israel: for Obama, there won't be individuals, movements and countries beyond the fence. The emissaries of the American President will get in touch with everyone.
5 November 2008. President-elect Barack Obama's victory rally in Chicago's Grant Park on election night. Washington Post/Preston Keres.
Obama's declared readiness to negotiate with Iran – this is a main reason for the fact that in an unprecedented way, for the first time since the Islamic Revolution of 1979, Iran congratulated the President-elect of the United States and hinted at a desire for dialog. It seems that now, Ahmadinejad seriously expects a policy change from Obama's side, holds him to his word that he'll be ready to meet with senior Iranian officials and discuss with them Tehran's nuclear program. The Iranian President called the President-elect of the United States to establish his rule on "justice, respect for human rights, friendship and non-interference in other countries' internal affairs."38 Iranian Foreign Minister, Manouchehr Mottaki, said that "The election of Barack Obama ... is a clear sign of the American people's wish and desire for fundamental changes in America's domestic and foreign policies"39; and on the whole, some Iranians were enthusiastic about the U.S. vote while some analysts were cautious, expressing viewpoints like: "It is for the Americans to show that something has changed, not the Iranians."40 However, in less than a week, in response to Obama's address where he restated that a nuclear Iran is 'unacceptable,' Iranian Foreign Ministry spokesman Hassan Qashqavi already discounted, in practice, Obama's election: "Can the gentleman (Obama) bring about change or not? Let us wait and see" and also, "We shouldn't expect fundamental, revolutionary changes in American policy,"41 repeating Tehran's official position that nuclear weapons had no place in the Islamic Republic's defense doctrine and its nuclear plans are about peace purposes only and as such, will be continued.

Taking things in perspective – in the meantime, everything is in the air, when every side has its own expectations and agenda, and definitely, some specials are being concocted in the political kitchens, – not yet released outside... No one said dialog means agreement, and also 'coming into contact' not at all suggests a way of coming out of it – and here, everything is open, possible and depends on many variables. At any rate, in outlining a new avenue, in my opinion, it would do good to take into account the last word of Mohamed ElBaradei: the IAEA Director General admitted in early December 2008 that the five years of efforts to stop the Iranian nuclear program haven't borne fruit. It's been three times that the U.N. Security Council has imposed sanctions on Iran, aiming to make it stop its nuclear project, and the European Union with the United States has been trying to persuade the regime in Iran to do so in exchange for economic benefits. "We haven't really moved one inch toward addressing the issues… I think so far the policy has been a failure" – and despite this, added that the election of the new U.S. President Barack Obama gave him "lots of hope."42

The above analysis reinforces the argument that the diplomatic game is becoming more dangerous with every day in light of the pace of Iran's progress with its nuclear program: currently, Israel is facing options, all of which are tough, preparing for the worst case scenario, and the moment of truth is steadily approaching. Iran has driven itself into a hard situation – and it was worthwhile for it to accept the generous offers of the Europeans, backed by the U.S., that contain far-reaching economic cooperation with the Iranians, in return for the cessation of uranium enrichment and return to the full control of all the facilities by the IAEA. In the bottom line, an observation of the French President Nicolas Sarcozy [September 2008] seems very close to becoming a prophecy: "Iran is taking a major risk in continuing the process to obtain a military nuclear capacity… One day, whatever the Israeli government, we could find one morning that Israel has struck."43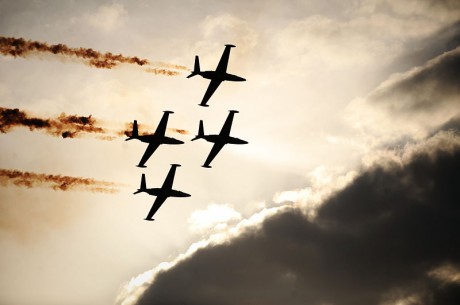 December 2009. Graduation ceremony of the Flight School: aircraft of the Israeli Air Force demonstrate their jarring synchronization abilities during flight. Israel Defense Forces.
-  -  -  -  -
The longer original is a 2008 research paper by Viktoria Lymar:
"The U.S. Back-Up As Being Critical for the Necessary Change of Israel's Nuclear Policy in View of the Rising Iranian Threat" (the course 'Selected Topics in Israeli Foreign Policy' at the Open University of Israel), mentored by Dr. Reuven Pedatzur Z"L.

Viktoria Lymar, an honors graduate from the OUI,  primarily specializing in international affairs is co-founder, publisher and translator of the IranEdge project website.

Please address your inquiries at viki.iranedge@gmail.com.

Photo credit: First image - February 2007, Düsseldorf carnival, Germany. DPA.

Notes:
[here are cited only English sources of quotations and references, while the original paper in Hebrew used Hebrew ones as well (in part, currently defunct) – which, in their turn, mostly relied on those English]

1. Farah Stockman, "Rice wants funds for democracy initiative in Iran," The Boston Globe, Feb. 16, 2006.
2. David Horovitz, "Bolton: I'm 'very worried' for Israel," The Jerusalem Post, June 27, 2007.
3. Ibid.
4. Ibid.
5. Norman Podhoretz, "The Case for Bombing Iran," Commentary, June 2007.

6. E.g. "DC Daughters and Sons Event: U.S. Secretary of State Condoleezza Rice," Council on Foreign Relations, Dec. 17, 2008.
7. Horovitz, op.cit.
8. As of 2008: incumbent Transport Minister and Deputy Prime Minister, and former Defense Minister and IDF's Chief of General Staff.
9. Horovitz, op.cit.
10. National Intelligence Council, "Iran: Nuclear Intentions and Capabilities," National Intelligence Estimate, Nov. 2007.

11. "Iran describes nuke talks as 'constructive'," CNN, July 19, 2008.

12. Caroline Lees, "US gives Iran two weeks to think again on enrichment," The Sunday Times, 20 July, 2008.

13. Ramin Mostaghim and Borzou Daragahi, "Rice says Iran stalling on nuclear freeze proposal," Los Angeles Times, July 22, 2008.

14. "Political Bulletin: Washington News," U.S. News & World Report, 10 July, 2008.
15. Prominent Israeli Prime Minister (March 2001 - April 2006), and formerly – Foreign Minister, Defense Minister, and other ministerial posts.

16. Israeli Prime Minister (April 2006 - March 2009).

17. "Olmert Blasted for Nuclear Tongue-Slip," Israel National News, Dec. 12, 2006.

18. Yossi Verter Ha'aretz Staff, Agencies, "Gulf states call for sanctions on Israel for having nuclear weapons," Ha'aretz, Dec. 11, 2006.
19. Ibid.
20. "Nomination of Robert M. Gates, to be Secretary of Defense: Hearing before the Senate Armed Services Committee," Iran Watch, Dec. 5, 2006.

21. News Agencies, "Gates: Israel doesn't pose nuclear threat like Iran," Ha'aretz, Dec. 8, 2007.
22. Exclusive report, "Israeli minister hurls an unprecedented threat on Iran," DEBKAfile, Apr. 8, 2008.
23. Michael R. Gordon and Eric Schmitt, "U.S. says exercise by Israel seemed directed at Iran," The New York Times, June 20, 2008.
24. Ibid.
25. Former Israeli nuclear technician who, citing his opposition to weapons of mass destruction, revealed details of Israel's nuclear weapons program to the British press in 1986.

26. Under federal law, a Presidential Finding, which is highly classified, must be issued when a covert intelligence operation gets under way and, at a minimum, must be made known to Democratic and Republican leaders in the House and the Senate and to the ranking members of their respective intelligence committees—the so-called Gang of Eight. A person familiar with its contents shared that "The Finding was focused on undermining Iran's nuclear ambitions and trying to undermine the government through regime change," and involved "working with opposition groups and passing money," and provided for a whole new range of activities in different areas of Iran.27
27. Seymour M. Hersh, "Preparing the Battlefield," The New Yorker, July 7, 2008.
28. Ibid.
29. Ibid.
30. Caren Bohan, "Obama: World must press Iran, or Israel may respond," Reuters, Aug. 25, 2008.
31. Barack Obama, address before the American Israel Public Affairs Committee's Annual Policy Conference, The New York Times, June 4, 2008.

32. "Obama: Iran nukes would pose 'grave threat'," MSNBC.com News Services, July 23, 2008.

33. "2008 Presidential Candidates Views on the Middle East: Iranian Threat," Jewish Virtual Library.
34. Ibid.
35. Mostaghim and Daragahi, op.cit.
36. "U.S. shelves diplomatic plans for Iran," Associated Press, Oct. 4, 2008.
37. Warren P. Strobel, "Bush to seek diplomatic presence in Iran," McClatchy Newspapers, Oct. 24, 2008.
38. "Iranian leader welcomes Obama win," BBC News, Nov. 6, 2008. 

39. Parisa Hafezi, "Iran warns U.S. military after Obama win," Reuters,
Nov. 5, 2008.
40. Ibid.
41. "Iran not expecting much change under Obama: FM," Daily Times, Nov. 11, 2008.

42. Borzou Daragahi, "Efforts on Iran 'a failure'," Los Angeles Times, Dec. 6, 2008.

43. Francois Murphy and Emmanuel Jarry, "Iran risks Israeli strike, French leader warns," Reuters, Sept. 5, 2008.