Israel, Ma'ariv
By Sara Leibovich-Dar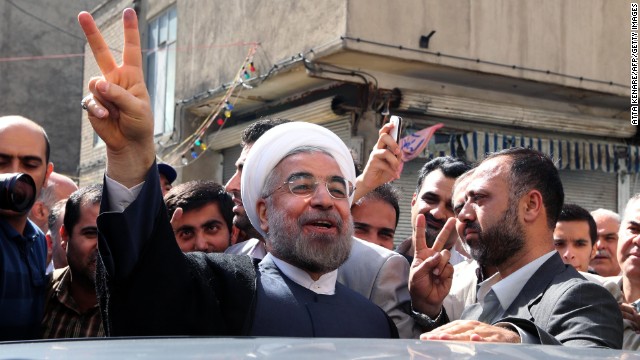 "Compared to what it was before, there is a chance for a breakthrough and a new beginning –but in the meantime, it is too early to determine what's going to happen in Iran. Nobody knows yet where he will go."
Translated by Viktoria Lymar
Edited by Steven Stenzler
21 June 2013
Hatred of the U.S., secret ties with the Israelis, a special relationship with France, rivalry with Ahmadinejad and a conciliatory attitude on the nuclear issue...
Four Israelis got acquainted with Hassan Rouhani, Iran's new president; they met him a few times in Paris and London, and one of them even recorded him. David Kimche, who was the Foreign Ministry Director General, businessmen Yaacov [Jacob] Nimrodi and Al Schwimmer, and Amiram Nir, former advisor on terrorism to then Prime Minister Shimon Peres, were involved in the Irangate scandal. Rouhani was at the time special envoy of the then Speaker of Iran's parliament Ali Akbar Rafsanjani for contacts with Israel and the United States. The British media reported at the end of 1986 that Rouhani had met twice in London with Yaacov Nimrodi and Al Schwimmer and at least once with David Kimche.
With Amiram Nir, he met in Paris in August 1986. Rouhani was the deputy Speaker of the Iranian parliament. Iranian arms dealer Manouchehr Ghorbanifar was the intermediary. He introduced Nir as an American official. Nir recorded Rouhani. The Iranian politician said the moderates in his country were walking on thin ice and asked for money so that Iran could end the war with Iraq. He suggested to the Americans to display toughness toward Khomeini. Unless you show sharp teeth to Khomeini, you'll have trouble all over the world; if you threaten him with military weapons – he'll kiss your hand and run away; if you don't demonstrate power, he'll one day turn against you. When he is faced with someone strong, he retreats a hundred steps – Rouhani said to Nir and criticized the lists of priorities of the ayatollahs' rule. They sent three million dollars to Lebanon – while here in Iran, we have no money to pay for our living needs and security.
In 1985, the arms middleman Ghorbanifar contrived a deal whereby Iran would get weapons in exchange for the release of Western hostages held by Hezbollah in Lebanon. The affair called Irangate got messy after it became apparent that the Americans funded the Iranian money with arms shipments to the Contra rebels in Nicaragua. Kimche, Nimrod, Schwimmer and Nir were privy to the deal. David Kimche died in 2010. In his book "The Last Option" [Hebrew], he depicts the contacts with the Iranians. "Bazaar bargaining tactics served the Iranians," he wrote – however, he didn't mention Rouhani by name, though apparently, he means him when he writes about a new communication channel, "and at its center – one of Rafsanjani's associates."
Al Schwimmer passed away in 2011. Anthony David, the author of  Schwimmer's biography "The Sky is The Limit," describes at length the negotiations with the Iranians, yet also doesn't refer to Rouhani. And likewise, Yaacov Nimrodi didn't mention his contacts with Rouhani in his book "My Life's Journey." His son, Ofer Nimrodi, says he doesn't remember conversations between his father and Rouhani, "but I didn't make an acquaintance of anyone who my father met with." Amiram Nir was killed in a plane crash in Mexico in 1988. Six years later, [top Israeli journalist] Ron Ben-Yishai unveiled the recording of the conversation between Nir and Rouhani.
Where Has the Doctorate Gone?
"So, who is Hassan Rouhani?" – TIME magazine tried to figure out the new president of Iran this week. "Conservative? Reformer? Honest broker? Double dealer?"1 There was no concrete answer. And still, when examining Rouhani's life story, it's impossible not to get the impression that we're talking a different product from the ayatollahs' production line.
Rouhani, 64, is married with four children; his son Hossein died 23 years ago. Seyed Hossein Mousavian, a research scholar at Princeton University who was a member of the Iranian negotiating team at nuclear talks and became very familiar with Rouhani, who conducted them in one of the endless rounds of those talks, told TIME that Rouhani's son, who was an aviation cadet, was assassinated on a military base in southern Tehran on political grounds. Iranian researcher Dr. Alireza Nourizadeh claims, however, that Hossein had committed suicide. "I loathe your regime," he wrote before his death, "your lies, your corruption, your religion, your hypocrisy and dissimulation [taqqiyeh]. I am disgusted with having to live in such an environment and having to daily lie to my friend by claiming that my father is not cut from the same cloth as the regime elite and chieftains... and that in reality his heart is with the people, while I know the truth to be otherwise."2
Hassan Feridon was born in Sorkheh, [a city] in Semnan province. His father was a bazaar merchant in Semnan. Hassan attended religious seminaries in Sorkheh [sic] and in Qom. It is unclear when he changed his last name from Feridon to Rouhani, which means a community of clerics. By the way, the name change caused a commotion in the election campaign. Rouhani studied law at the University of Tehran. He earned his M.Phil. in 1995 for a thesis on the Iranian legislative power and Ph.D. in 1998 for a thesis on the flexibility of Shariah from Glasgow Caledonian University, both under the name Hassan Feridon.
During the election campaign, Rouhani's opponents claimed he's boasting a load of academic degrees, although no one at the university knew him. Investigation of the Herald Scotland newspaper found that Rouhani indeed studied there, but as stated, under his birth name Feridon, and that he is entitled to his degrees. However, this week it was impossible to find Rouhani's theses in the university. According to the library website, both the master's thesis and doctoral one by the Iranian President have been already out on loan; it is unclear who the lucky holder of this material is. The university spokeswoman doesn't know Rouhani ["was unable to shed light on Mr Rowhani's time as a student"3]; two of the university alumni of his year told the British Daily Telegraph they don't remember him.
Mousavian remembers him very well. "Before he talks he thinks a lot,"1 he noted last week. While teaching at Princeton, Mousavian – who fled Iran in 2007 – is planning to return to Tehran and help his close friend Rouhani restore the problematic image of Iran. This week he would not talk to me about Rouhani. I'm busy all day in meetings, he said and hung up.
Believe Khamenei
Rouhani's family opposed the Persian Shah, and Rouhani, who agitated against Shah Ali [sic] Reza Pahlavi and gave lectures in support of Ayatollah Khomeini, was forced in 1977 to leave Iran for fear of his life. He joined Khomeini in his exile in Paris, returned to Iran during the Revolution and in 1980 was elected to the Islamic Consultative Assembly (Majlis); he was even a member of the Supreme Defense Council during the Iran-Iraq War. In 1989 he was appointed Secretary of Supreme National Security Council – a position he held until 2005. Since then he had an opportunity to be a member of the Assembly [of Experts] that is charged with electing the supreme leader and President of the [Expediency Council's] Center for Strategic Research.
Between 2003 and 2005, Rouhani stood at the helm of the Iranian delegation on nuclear talks. In his book "National Security and Nuclear Diplomacy," which saw light in 2011, he details the contacts with the Western countries. The book, stretching over a thousand pages, is divided into 12 main chapters and dozens of sub-chapters. A shortened version of more than 500 pages was published two months ago. Rouhani is a wild graphoman. His master's thesis covers 256 pages, doctor's thesis reaches 445 pages. On the website of the Center for Strategic Research in Tehran, the summary of the book on the nuclear talks can be found only in Persian. So also the rest of his books are concisely presented to Persian readers. As is customary in similar institutions in the West, Rouhani has listed on the site the ways of contacting him. This week he already did not answer emails nor calls on the phone number cited on the website.
Out of the thousand pages of the book, the Iranian Emrooz newspaper opted to quote a description of the meeting between Rouhani and Mahmoud Ahmadinejad, shortly after the latter was elected president. Ahmadinejad wanted to know why the West manages to impose its influence on the International Atomic Energy Agency. Most of the Agency's budget comes from the Western countries, answered Rouhani. In response, Ahmadinejad ordered Rouhani to call Mohammed ElBaradei, who headed the Agency, and tell him that from now on Iran would fund the agency.
Rouhani explained to the president that ElBaradei wouldn't be able to accede to the proposal. The Agency operates under orderly rules, Rouhani said to the president, and reminded him that he could not fund the agency without the approval of the Iranian parliament. The response angered the president, Rouhani writes in his book. "I said it is not how things are done and that I would not do such a thing. If you insist you can call Elbaradei yourself."4 He even told Ahmadinejad that, if he wanted to issue instructions without consulting him first, he had better find a new secretary for the [Supreme National Security] Council.5
In an interview to the Mehrnameh periodical, which accompanied the publication of the book, Rouhani said he preferred to resign from his longstanding post as Secretary of Supreme National Security Council because the secretary must work in complete mutual trust with the president. Since I don't know you, he said to Ahmadinejad [sic], and you do not know me, I should leave the Council.5 In a lengthy interview, Rouhani is talking with restraint about the Iranian nuclear program. Ali Khamenei's fatwa* forbids the development and use of nuclear weapons, he told the newspaper.6
Khamenei brought up the fatwa during Friday prayers at Tehran University in early November, 2004, on the eve of the opening of the nuclear talks between Iran and the European countries. I told the European delegates that the fatwa is more important than the Treaty on the Non-Proliferation of Nuclear Weapons, recalls Rouhani. The Europeans realized the implications and suggested that fatwa become an official law, – an initiative that did not come into fruition.6
The main reason for the failure of talks with Europe in the first decade of the 2000s, Rouhani said in the interview, was the American stance: After I finished my position [as the SNSC chairman], I traveled to Germany to meet with [former] Foreign Minister Joschka Fischer, and he told me it was possible to reach agreements with Iran, nonetheless, the Americans prevented the signing of an agreement. I want to hold negotiations with the United States. Negotiating with the Americans could be likened to driving a Mercedes Benz, compared to negotiations with the Europeans, which is like driving a Paykan (an Iranian-made car).6
About negotiating with developing [nonaligned] countries, he spoke disparagingly – it's like riding a bicycle. In 1993, in a visit to Germany, he spoke even more surprisingly: Iran is ready to allow the Western countries to inspect and monitor its nuclear, chemical and biological facilities – he said, and repeated his words ten years later.7
Despite Rouhani's relative conciliatoriness, the hatred he harbors for the United States is demonstrable. In March 2000, after the United States agreed to ease sanctions on Iran, several Iranian officials announced that the alleviations aren't the desired change in relations between the two countries. Rouhani was the most blatant. He mentioned the U.S. support for the coup that had brought the Shah to power in 1953 and the aid America had provided to Iraq in the course of the Iran-Iraq War. Easing sanctions is a cautious step, he observed, which appears to be a positive step, yet in practice, it is a negative step.7
No Trust
Rouhani, whose acquaintances indicate that he is a man of contrasts, spoke differently at a speech [at the Assembly of Clerics] in Tehran in April 2006. "We only agreed to suspend activities in those areas where we did not have technical problems...8 When we were negotiating with the Europeans in Teheran we were still installing some of the equipment at the Isfahan site. There was plenty of work to be done to complete the site and finish the work there. In reality, by creating a tame situation, we could finish Isfahan...9 When we wanted to negotiate with the Europeans last year, we had something like 150 centrifuges, but today we have about 500 centrifuges that are ready and operational. We could increase that number to 1,000."10 

In the address, Rouhani clarified that Iran does not have any trust in the European countries. "Unfortunately even the West does not trust us. Unfortunately, they do not trust us, either. They think we are out to dupe them, and we think in the same way, that they want to trick and cheat us."11 He reiterated that Iran's conduct was reliable. "[W]e have not lied. In all cases, we have told them the truth. But in some cases, we may not have disclosed information in a timely manner,"12 he said and expressed a complete disregard for the IAEA: They obtained information [on undeclared tests] from an Iranian student's dissertation.13 

As someone who spearheaded Iran's nuclear talks, Rouhani met with most world leaders. Over the course of the election campaign, he emphasized his fondness of the Western culture. He speaks Persian, Arabic and English, mastered Russian, French and German; a workaholic who works from morning to night. In media interviews, he recently shared that he's an avid Internet surfer, regularly goes out for long walks, swims, a movie lover and prefers to read academic articles rather than belles-lettres.
In February 2005 Rouhani met with the Russian President Vladimir Putin for a rendezvous during which Russia agreed to help Iran's nuclear program. Russia will cooperate with Iran in building a reactor for civilian purposes, Putin said after the meeting. In May, he met in Geneva with foreign ministers of Britain, France and Germany. At the end of the meeting, Iran consented to freeze its nuclear program.
Rouhani wrote to the European foreign ministers that Iran sought to advance towards an agreement that would lead to better relations and respect Iran's rights under the Non-Proliferation Treaty, so that it would be able to use nuclear fuel in power plants. He announced to the reporters that "it's possible to reach a final agreement within a short time," but stressed that he had to consult with Tehran before he could sign the agreement. In press interviews, he stated repeatedly that the Supreme Leader is the one who decides, although the president and the government formulate the policy. In any case, the election of a new president does not change the nuclear policy, he said in the interview to Mehrnameh in May 2012.
British former Foreign Secretary Jack Straw, who met with Rouhani in the process of the nuclear talks, characterized him this week as "someone we can do business with."13 Michel Barnier, former French foreign minister, and Javier Solana of the European Union – who got to know Rouhani well when he ran the nuclear talks – have refused this week, at Ma'ariv request, to express their impression of the new Iranian president. 
Despite the tight relationship between Iran and Russia, in interviews and lectures over recent years, Rouhani expressed reservations about Russia, that in his opinion is not interested in Iran having a nuclear fuel cycle. I don't believe that the nuclear problem could be solved with China and Russia's help, he said to Mehrnameh. He also wasn't enthusiastic about the mediation attempts of Turkey, whose involvement "is a sensitive issue due to the fact of its being Iran's neighbor and the need for a balance of power between the two countries."15
On several occasions he expressed a desire to get help from Brazil and South Africa in the nuclear talks, and spoke warmly of France, actually. "While Britain and Germany were saying that they were only interested in good relations with Iran, France wished to achieve higher-level relations due to the significance it places on the Persian Gulf."15 As a sign of good relations between France and Iran, he related how the French had thanked Iran after Hezbollah leader Hassan Nasrallah prevented his supporters from shouting slogans against France during a speech he gave at a major conference in Lebanon.
Diplomatic Sheikh
About Israel, Rouhani doesn't talk often. In an interview to Asharq Al-Awsat, just days before the election, he said that Iran would continue to support the Palestinians: "[T]he Palestinian issue has been high on the agenda of our foreign policy."16 He talked about the realization of national aspirations and restoration of the rights of the Palestinian people, although didn't elaborate. "Compared to all the rest of the contenders in the presidential election, Rouhani is also the most moderate in everything regarding Israel," comments Professor David Menashri, "nevertheless, he is not a lover of Zion."
In the conversation with Amiram Nir, Rohani said he had met with the leaders of Hezbollah and Palestinian groups. He had promised them that Iran would not abandon them and would give them backing and aid so that they intensify terrorist activities against Israel. But seven years later, in September 1993, he promised that Iran would not act against the Israel-PLO agreement. We rejected the agreement, he said in an interview to Radio Tehran, but we have no intention of launching actions against it, and we have no desire to intervene in the process.7
The "Diplomatic Sheikh" – it's the nickname given to Rouhani by the Iranian media, and he tries to live up to this definition. His remarks exhibit moderate views alongside those uncompromising extreme, depending on the circumstances. In summer 1999, there took place anti-regime demonstrations in Tehran. Rouhani called the protesters 'enemies of the state' ["corrupt on earth who waged war on God"17] and promised that they would be arrested and punished. "The agent that has united our people today, is simply indestructible; that agent is Islam and Islamic rule which is the absolute symbol of the Supreme Leadership," he said. "The continuance of this mess is not acceptable for our regime and the people. I issued strict orders against these riotous elements [the students] to confront and severely deal with these opportunists. Wherever they are, we will handle them and suppress them. [People will witness what today's security and disciplinary forces, the heroic members of the Basij (auxiliary militia) will do to these rabble-rousers and thugs, if they dare to imagine that they can continue their so-called peaceful campaign.]"18
And yet, despite the skeletons found under the robe, his statements of the recent weeks reveal a moderate leader. Radio Free Europe collected together such statements from an interview with the Sharq daily newspaper, Rouhani's website, and the televised presidential debates. "All the people in our country, no matter which ethnicity or tribe they're from, should feel they're the citizens of one country and enjoy equal rights," he asserted. "We need moderation and rationality; we have to move away from extremism... If we want to compete with countries like Turkey, Malaysia, and South Korea, we need to create a real revolution in our economy... We have to give people a free hand; we shouldn't intervene so much in people's private lives and culture... In a government of 'Hope and Prudence,' men and women, boys and girls will feel free."19
"Over the years, he issued radical statements and more moderate statements," says Prof. David Menashri. "I would associate him with the mainstream. Relative to all other competitors in the presidential race, Rouhani is indeed moderate. Compared to what it was before, there is a chance for a breakthrough and a new beginning, but in the meantime, it is too early to determine what's going to happen in Iran. Nobody knows yet where he will go."
Original Hebrew article:
http://www.nrg.co.il/online/1/ART2/482/663.html?hp=1&cat=666&loc=10
Photo credit: CNN - Iran declares new president;
Wikipedia - Cover of the 3rd edition of the book "National Security and Nuclear Diplomacy;"
AP/Haaretz - Then-IAEA head Mohamed ElBaradei meeting in 2003 with Iran's Hassan Rouhani;
The Green Voice of Freedom/The Telegraph;
AP/Ebrahim Noroozi/CBC - Supporters of Iranian presidential candidate Hassan Rouhani celebrate his election victory in Tehran
Notes:
1. http://swampland.time.com/2013/06/17/who-is-hassan-rowhani/
2. http://www.gatestoneinstitute.org/3775/hassan-rouhani; http://www.ynetnews.com/articles/0,7340,L-4393748,00.html
3. http://www.telegraph.co.uk/news/worldnews/middleeast/iran/10123809/Hassan-Rowhani-The-Iranian-president-and-the-mystery-of-the-missing-thesis.html; http://english.alarabiya.net/en/perspective/profiles/2013/06/17/Iran-s-very-own-Braveheart-Uncovering-Rowhani-s-Scottish-education.html   
4. http://www.criticalthreats.org/iran-news-roundup/iran-news-round-may-10-2012;
http://www.terrorism-info.org.il/Data/articles/Art_20332/E_098_12_2074114712.pdf, p. 8
5. http://www.terrorism-info.org.il/Data/articles/Art_20332/E_098_12_2074114712.pdf p. 8
6. http://www.terrorism-info.org.il/Data/articles/Art_20332/E_098_12_2074114712.pdf, p. 4-5
http://www.pbs.org/wgbh/pages/frontline/tehranbureau/2012/05/qa-former-iran-nuclear-negotiator-bush-negotiation-bid-was-rebuffed.html
http://www.middleeast-armscontrol.com/2013/06/24/rouhanis-rise-and-implications-for-iranian-foreign-policy-and-nuclear-politics/
7. The remark has not yet been verified; it may constitute a generalization of Mr. Rouhani's words - as a large part of the quotes throughout the original Hebrew text
8. http://lewis.armscontrolwonk.com/files/2012/08/Rahbord.pdf, p. 13;
http://www.brandeis.edu/crown/publications/meb/MEB5.pdf
[Assumingly, Mr. Rouhani could have used parts of his 2004 speech in the 2006 speech as well]
9. http://www.telegraph.co.uk/news/worldnews/middleeast/iran/1512161/How-we-duped-the-West-by-Irans-nuclear-negotiator.html;
http://www.gatestoneinstitute.org/3775/hassan-rouhani;
http://www.brandeis.edu/crown/publications/meb/MEB5.pdf;
http://lewis.armscontrolwonk.com/files/2012/08/Rahbord.pdf
10. http://lewis.armscontrolwonk.com/files/2012/08/Rahbord.pdf, p. 16-17;
http://www.brandeis.edu/crown/publications/meb/MEB5.pdf, p.3
11. http://lewis.armscontrolwonk.com/files/2012/08/Rahbord.pdf, p. 38
12. Ibid., p.16
13. http://www.telegraph.co.uk/news/worldnews/middleeast/iran/1512161/How-we-duped-the-West-by-Irans-nuclear-negotiator.html;
http://www.brandeis.edu/crown/publications/meb/MEB5.pdf, p. 4;
http://lewis.armscontrolwonk.com/files/2012/08/Rahbord.pdf, p. 7
14. http://jcpa.org/rowhani-and-the-iranian-elections-dore-gold-debates-former-british-foreign-secretary-jack-straw-on-bbc-radio-4-morning-program-june-14-2013/
15. http://www.terrorism-info.org.il/Data/articles/Art_20332/E_098_12_2074114712.pdf, p. 6
16. http://www.aawsat.net/2013/06/article55305525
17.
http://www.csmonitor.com/World/Middle-East/2013/0621/Iranian-expectations-soar-after-Rohani-s-election
18. http://www.gatestoneinstitute.org/3775/hassan-rouhani;
http://online.wsj.com/article/SB10001424127887323566804578549262039104552.html
19. http://www.rferl.org/content/rohani-quotes-iran-president-election/25018448.html
* a legal opinion or decree handed down by an Islamic religious leader